Spend a wonderful afternoon with my client who was in desperate need of paint color guidance. As the painters had already arrived at her house she felt she it was time for a new accent color on the walls, as well some help figuring out what to do with the kitchen cabinets.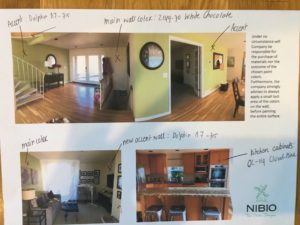 – We choose for light walls colors and a sophisticated gray that would complement the slate on the fireplace.
– For the kitchen cabinets we decided to fill in the grooves, as they seemed impossible to clean. The color is a crisp white that works very well with the countertop and creates a nice contrast.